By Sophie Bingham Buchanan
In gathering material for this brief sketch of Mrs. Campau I am indebted to Mrs. W. F. Ringuette, Mrs. Ringuette Mallock, Mrs. J. W. Stanley, Mr. and Mrs. Dennis Campau, Mrs. Danforth, Mrs. E. B. Powers, Miss Lucy Ball, Mrs. James Campbell, Mrs. S. L. Withey, and to the marble tablets in the Catholic cemetery. Author.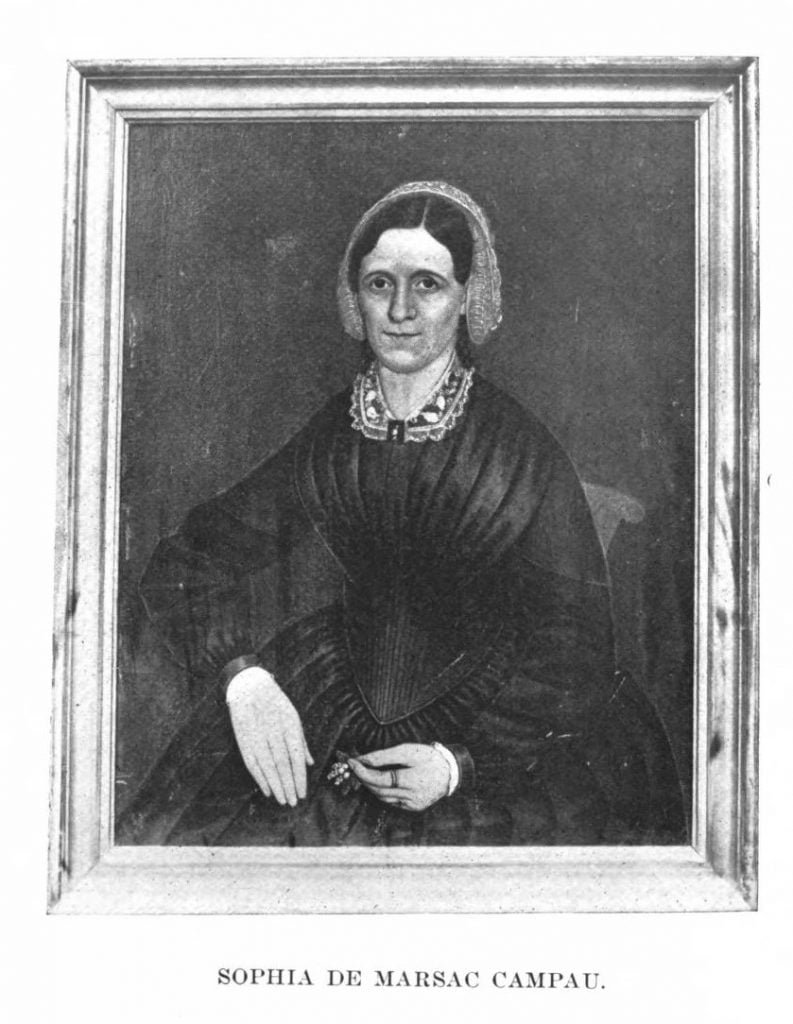 When quite a young girl in short dresses, I came here to attend school, residing with my brother, a clergyman. Naturally, in his position, he met many of the older and more prominent citizens of this then thriving and growing village of nearly two thousand inhabitants. Among others, we soon heard of this honored and friendly man, Mr. Louis Campau, and his beloved wife, Sophie de Marsac Campau, as the "Founders" of this Valley-city, of which we now are so justly proud.
Later when I came here a bride in 1854, I became more interested in them, passing as they did so frequently my own home on East Fulton street, and hearing of their kind-heartedness and benevolent work among the Indians and the poor of this city. Giving a hearty welcome to strangers and pilgrims who had left home and friends in the east, and venturing thus far, were seeking to make another and a better somewhere among the western wilds of Michigan. Many through the inducements held out by these humane pioneers, were persuaded to remain and cast in their lot with the fortunes of this little Indian hamlet. Hearing of several families stranded at Ionia, Mr. Louis Campau [1]Louis Campau was born in Detroit, August 11, 1791. He was married twice, his first wife dying at Saginaw where he was in the fur business before he went to Grand Rapids. Memorials of Grand River … Continue reading went there, brought them here, and his good wife joined him in looking after and caring for them in their own home until they could get a start. Among those who came first, were Joel Guild, Aunt Hattie Burton, and others.
Sophie de Marsac Campau, was born in Detroit, September 25th, 1807. Her father, [2]Rene Marsac, born at Grand Marais, in Grosse Pointe, 27 Aug., 1777, married at Detroit, 21 April, 1806, Eulalie Gouin, born at Detroit, 9 May, 1785, daughter of Charles Gouin and Susanne Boyer. … Continue reading Major General Rene de Marsac, came from a fine old French family in France at an early day, and with his wife Eulalie Gouin, made their home in Detroit. Susanne Marsac married William H. Godfrey and was the mother of Mrs. E. B. Powers. Their parents were well-to-do and prominent people of the old regime in the city of the straits.
From all we can learn of Sophie de Marsac's home life, it was a simple, joyous, happy and contented one. Her father a man of comparative wealth in that early time gave his children every advantage possible. Sophie was educated at the convent and was taught needle-work, cooking, dancing, deportment, and all the necessary accomplishments of that day and generation. In Detroit, August 9th, 1825, this lovely young girl of eighteen became the bride of Louis Campau.
But the course of true love even for Uncle Louis and Aunt Sophie did not for a time run quite smooth; for being cousins of the fourth degree, the limitations and restrictions of their beloved Church in this regard were only overcome in the granting of a dispensation by Rev. Father Gabriel Richard (vicar-general) permitting the marriage which, he himself performed, "giving them the nuptial blessing according to the ceremonies of the Roman Catholic Church. [3]Mr. Slater and his wife arrived May 5, 1828. History of Kent Co., p. 176. The date of this marriage was obtained from the records of St. Anne's Church in Detroit. Two years later Louis Campau with his bride started out on their long journey through the wilderness, and settled in their new home on the banks of Grand River.
Accustomed as she had been to the delightful atmosphere of this old garrison town of Detroit, with warm friends, genial companions, happy home life, how great the change to this lonely Indian village; herself the first and only white woman in it. But it was to be her home; and she entered heart and soul into the work apparently laid out before her.
Sophie de Marsac Campau was a beautiful woman, tall and slender, easy and graceful in manner, lovely in character and disposition. As one old friend remarked, "She was the only person he ever knew with-out a flaw." Her serenity of character and even temperament under all circumstances, adverse or otherwise, proved an excellent foil to her husband's impetuous nature. A great home body, a devout Catholic, true to her religious principles, a fine hostess and kind mistress, she was a favorite with all. May 5th, 1828, Rev. Leonard Slater 5 with his bride arrived. He started the Baptist Mission on the west side of the river, and to Mrs. Campau at the old fur-trading post on the east side, this addition brought joy to her lonely heart.
How delightful as we of today look back at the beautiful friendship existing between these two lovely Christian women ; this Protestant and this Catholic, besides coming nearly at the same time; happy even looking into each other's faces, for they were the only two white women in the Valley at this time. Mrs. Campau later told this story to a dear friend. "I so glad dear Mrs. Slater come. We the only white women here. We go back and forth to see one another often. I speak no word of English, Mrs. Slater she speak no word of French. But we just sit and look at each other, and we make signs so we partly understand, and we so happy!" This strong and loving companionship continued until the Slaters left for another field of labor.
Mr. and Mrs. Campau among other beneficent work, adopted and brought up his nephew Antoine Campau, who recently died at the Soldiers' Home. Also a French and Indian girl (one-quarter Indian) Lucy Genereux. She was sent to the Convent, educated and developed into a beautiful woman of commanding presence and personality. Later married Mr. John Godfroy, but died soon after of consumption. Years passed on and Louis Campau prospered, amassed quite a fortune for those early days, and with his wife proved the same generous, warm-hearted couple as of old. He traded with the Indians, bought and sold their furs, maple sugar, fish and whatever they had. I trust he did not meet with the same experience as did my father in his mission station, at Sault de Sainte Marie. The Indians there made the finest of maple sugar, white and nice. Father bought it by the Mucknck (Mocock) and frequently used it in his coffee. One fine morning as he stirred his fragrant cup of coffee, lo, a small but elegant lizard made its appear-ance ! ! Thereafter maple sugar was banished from our table.
Mr. Campau built his home at the head of East Fulton street hill, and with his good wife, dispensed alike their broad hospitality to neighbors, friends, relatives, Whites and Indians. Their generosity and kindness of heart was unbounded even to their own detriment. No poor Indian too ragged, unkempt or dirty to be welcomed cordially to their hearth and home. They were warmed, blanketed and fed as the case required. One freezing night a party of Indians congregated in the yard. It was too cold for them outside. They were brought into the sitting-room and kitchen, where, after a good meal prepared by Aunt Sophie and the servants, they laid down on the floor wrapped in blankets, furnished by Uncle Louis, and slept soundly till early morning when, like the Arabs of old, "they silently stole away."
For nearly two years she took the six motherless children of a sister (or relative) kept and cared for them in their home. The mother and one child they buried in their own yard until in 1857 they were re-moved to the Catholic cemetery. These are but few of many incidents constantly occurring in the pioneer life of this kind-hearted and philanthropic couple.
No doubt some of the older inhabitants can remember the spacious mansion, with its wide hall and good-sized rooms. In one a fine velvet carpet covered the floor. In another was the so-called "Peacock Carpet" from its resemblance to this handsome bird, with tail out-spread to show its beauty. The dining-room painted in blue and white, with its dainty china, looked very inviting. Most of the furniture was of very rich looking genuine mahogany. The great "Musical Clock" stood in the broad hall, and all the children and fun-loving young people danced to its music.
A French clock of great beauty, of rosewood, onyx and gilt stood on the parlor mantel. Mrs. Danforth, a niece, has this clock now in her possession. Elegant lace curtains, rare and choice,, costing hundreds of dollars, hung from the windows. The large chambers above had hangings of creton, one room in blue, the other in white. Aunt Sophie gave a party in the "Apple Orchard" to celebrate the time of her niece's and nephew's first communion. The priest, the school-teacher, and the children were all invited to partake of the abundant feast prepared, and it was an event long to be remembered.
Their home was the rendezvous for numerous nephews and nieces, and a pleasant gathering place for young and old in which to congregate and talk over old times and new, as well as having an occasional old fashioned cotillion party, to "trip the light fantastic toe," in which all joined. Even during the War of the Rebellion the soldiers were invited over to the apple orchard, and told to help themselves.
Aunt Sophie one morning was making crullers, expecting a few friends in for tea, when a lot of Indians came in. Uncle Louis called out, "Give them some." "No I can't," said she, "I'm preparing for company." But with her usual good nature, she passed the sieve in which they lay to an old Indian woman near her, who most unexpectedly tipped its contents into her blanket! And so, alas! poor Aunt Sophie bad to make another batch for her evening guests.
She dressed very handsomely, for Uncle Louis loved to see her in rich attire. She was a fine cook! to say "fine" hardly expresses it. She was a beautiful cook, to which all could testify who sat at her table. She gave a dinner party one day, to some of her neighbors, Mrs. Depew, Miss Burch, Mr. and Mrs. Sarel Wood, Mr. and Mrs. VanBenthusen, and a few others. Introducing Mr. VanBenthusen in her pretty French way to her guests she said, "I am very glad to meet you, Mr. VanBenthusen Berry, and have you get acquainted with my frens." (friends). To which he gallantly replied, "Thank you, but with your permission Mrs. Campau, I will leave off the "berry." Mrs. Campau and Mrs. Depew were near neighbors and close friends. They often talked over their religious beliefs and convictions. Each with bible in hand looked over and compared notes and passages of scriptures trying in a friendly spirit, to understand more clearly and truthfully, if possible, the meaning of their own particular Bible as it appeared to them. But with the ever growing thought that, in the near future, they would meet heart and soul, as loving sisters, in the "Paradise" above.
In later years when reverses came, they sold the East Fulton Street.home, and moved into the house now owned by "our" Dr. Rutherford, next the Ladies' Literary Club building. Mrs. Campau's heroic and unwavering fortitude amid trying circumstances showed the true, saint-like spirit, for some did indeed call her a "Saint on Earth." After a short illness of three weeks she passed sweetly and peacefully to her rest, July 31st, 1869, in her sixty-second year, beloved and revered by all who knew Sophie de Marsac Campau.
Shall we not indeed even at this late day, do honor to this brave, yet gentle woman, who seconded in every way possible her husband's efforts by her self-sacrificing spirit, her generosity, her large-heartedness and simple kindness, to these people of a darker skin, who ministered with her own hands to their necessities and when trouble or sickness came helped to lay their little ones away when disease lessened their thinning ranks. She, like the Master of old, "went about doing good."
May we not by following her example and sweet spirit of charity, and by emulating her virtues, be of service in some way in this work-a-day world, and the effect of her influence on ourselves still be so felt as to let our world know, in a quiet way, that we women of today of this Valley City have not lived in vain.
Source: Collections and Researches made by the Michigan Pioneer and Historical Society, vol. XXXVIII. Wynkoop Hallenbeck Crawford Co., State Printers, Lansing, Michigan, 1912.
References

↑

1
Louis Campau was born in Detroit, August 11, 1791. He was married twice, his first wife dying at Saginaw where he was in the fur business before he went to Grand Rapids. Memorials of Grand River Valley, p. 10 of memorials.

↑

2
Rene Marsac, born at Grand Marais, in Grosse Pointe, 27 Aug., 1777, married at Detroit, 21 April, 1806, Eulalie Gouin, born at Detroit, 9 May, 1785, daughter of Charles Gouin and Susanne Boyer. Eulalie Gouin was buried at Detroit, 18 Jan., 1847. Their children were:

Julia Gouin Marsac, born Feb. 1st, baptized at Detroit, 29 April, 1806, married at Detroit, 16 Jan., 1827, Anthony Rivard, born at Detroit, 5 Dec., 1798, son of Michael Rivard and Agnes Saucier. Anthony Rivard was buried at Assumption church, Greinerville, 2 Nov., 1887. Julia Marsac died at Detroit, was buried at Assumption church, Greinerville, 20 March, 1888.
Sophie Marsac, born at Detroit, 25 Sept., 1807, married there, 9 Aug., 1825, Louis Campau, born at Detroit, 16 Aug., 1791, widower of Ann Knaggs, son of Louis Campau and Therese Moran.
Susanne Marsac, born at Detroit, 3 Feb., 1810.
Daniel Marsac, born at Detroit, 25 Jan., 1812, married there 28 Dec., 1836, Scholastica (Colette) Beaufait (Beufait), born at Detroit, 10 Feb., 1816, daughter of Louis Beufait and Marie Louise Saucier.
Therese Marsac, born at Detroit, Dec. 15, 1814, married there 24 Jan., 1837, Julius Patrick Bolivar McCabe, the author of the first directory of Detroit.
Charles Marsac, born 3 April, baptized at Ste. Anne's, Detroit, 26 May, 1817.
Emily Marsac, born at Detroit, 1 March 1819, married at Saginaw, Mich., before a civil magistrate, Toussaint Campau, born at Detroit, 7 Nov., 1818, son of Henry Campau and Geneveva Marsac. This marriage was ratified in the Catholic church at Saginaw by a missionary priest, 2 Sept., 1843, and was recorded at Ste. Anne's, Detroit. Both bride and groom resided at Saginaw.
Marie Edesse Marsac, born at Detroit, 1 Aug., 1821.
Henrietta Marsac, born at Detroit, 12 Dec., 1823.
Eulalie Julia Marsac, born at Detroit, 3 July, 1827, married there, 20 Nov., 1845, Franklin M. Wing, born in 1820. Both bride and groom lived in Detroit.

From notes by the Rev. Christian Denissen, who died in Detroit, Oct. 27, 1911. See also Records of Ste. Anne's church, Detroit.

↑

3
Mr. Slater and his wife arrived May 5, 1828. History of Kent Co., p. 176.