By C. C. Comstock
This paper was written by C. C. Comstock for the Old Residents' Reunion at Sweet's Hotel, Grand Rapids, Feb. 19, 1895, and by request read by his daughter, Mrs. Lucius Boltwood, at the midwinter meeting, Grand Rapids, Jan., 1907.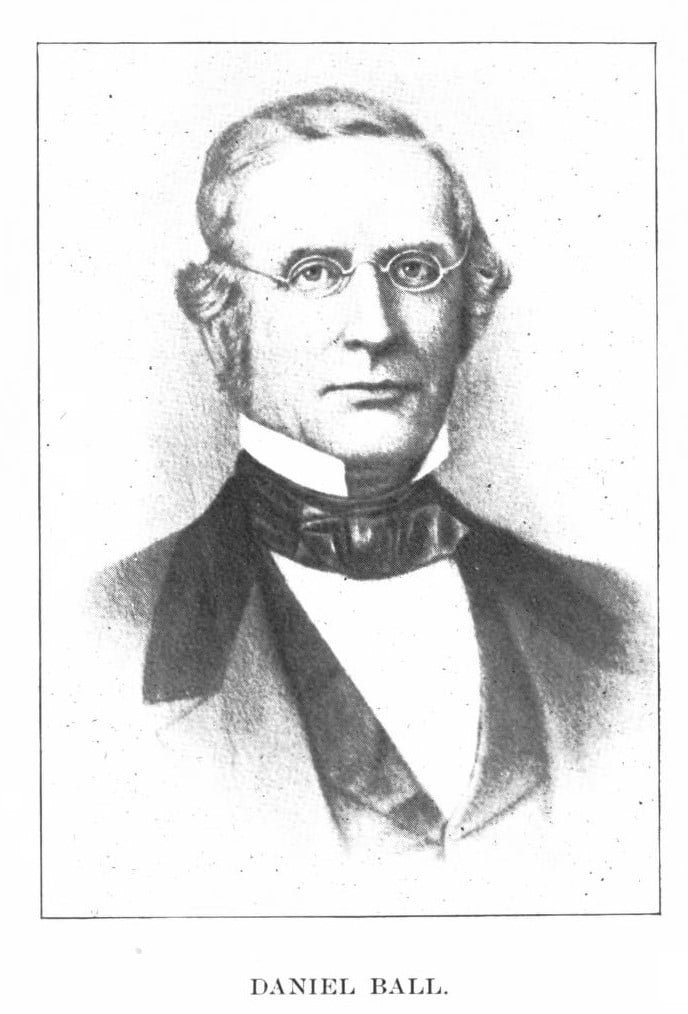 Daniel Ball was born in Cheshire County, N. H., 1)Daniel Ball, son of John Ball and Nancy Bradbury, was born July 30, 1808, and died at Jamestown, N. Y., Dec. 30, 1872, aged sixty-five years. He married Mary Covert in Rochester, N. Y., Feb. 13, 1832, and had three children: Byron D. Ball, born July 19, 1833, died Feb. 4, 1876; Mary E. Ball, born Feb. 23, 1836, died, ; Julia E. Ball, born Oct. 20, 1838, died . Byron D. Ball married Martha M. Linnell, July 26, 1854, and had five children, Julia M. (died in infancy), Daniel, Byron L., Ashley L., and Martha, all living. (Furnished by Daniel Ball, grandson.) and removed with his parents to western New York while he was quite young. This I learned from him after I became a resident of this city in 1853. From and after that time I became intimately acquainted with Mr. Ball in business and financial affairs, and our business relations were continuous so long as he remained with us. It now seems that my dealings with him during those years were greater than with all others of this city and I have nothing but kind words to speak of his memory. At that time he seemed to be the life of the city and it appeared to invite capital and men of energy, and such effects are far-reaching. Examples for good or evil are contagious, and his stimulated others to activity. The effects may be seen in the building up of this prosperous city. If this place had been deficient in all the enterprises in which Mr. Ball was then engaged, it would have had the appearance of a dead town, and nowise inviting for strangers to locate here. One such man alone may be the cause of the building up of a great city and cause it to surpass its rivals. I had scarcely heard of Grand Rapids one month before I came, while Kalamazoo, Battle Greek and Ionia were familiar names. It is the live towns where men can find employment as laborers, and for their capital, which draw together a healthy population. A town built by speculators without the industries is a failure. Prosperity only lasts while it is being built. Perhaps the Hon. William T. Powers with Morris Ball as partner in the manufacture and sale of furniture and lumber, were the next in push and enterprise, but their capital and help employed was small when compared with that of Daniel Ball. The much larger proportion of the residents were worthy and law-abiding citizens, but furnished little employment for mechanics or laboring men. The only power used for manufacturing was taken from the east side canal and Coldbrook, except one steam sawmill just completed by Powers and Ball at the head of the Rapids. There was not one hundred dollars worth of sash and door machinery in use, and but one machine for dressing and matching lumber, and the price for doing that work was $4.50 per thousand feet. The industries seemed hardly sufficient to support the inhabitants then here, for very little of building and improvement was being made. There were many highly honorable merchants and professional men for a place of its size. The place was full of speculators, all prepared to sell fortunes by the acre, where great cities were sure to be built, and it was said there were forty thieves ready to distribute among themselves all the estates of venturesome new settlers; but I think that Mr. Ball had no friends among them, for he was too deep for their plots and too well fortified to be assaulted. There was no scarcity of lawyers, for the first time I was compelled to appeal to the courts, I called on nine who were retained against me, before I found one running loose, and after I gave him my case, I found him closeted with my antagonist several times, probably to learn the strong points in my suit. At the first trial the judge decided in the way to do the "greatest good to the greatest number" of lawyers, and the ends of justice required eight years of litigation, when I thought it should have been reached in three months.
There were no railroads to this city at that time and the only inlet or outlet for goods and merchandise was by way of Grand River, or by hauling with teams from and to Battle Creek or Kalamazoo. For transportation of all farm products and other merchandise, except lumber and shingle which were rafted, the people were dependent upon the steamboats of Daniel Ball. He had boats running from the head of the Rapids to Lyons, and more from below the Rapids to Grand Haven, always making the necessary improvements in the channel at his own expense. He brought the wheat and other grains from all points up the Valley this side of Lyons, to the head of the Rapids with his boats, then with his teams delivered it in the city or to his boats below for transportation to other markets. There were a few other steamers built to run in competition with Mr. Ball's line, but I think the undertaking proved unprofitable and was soon abandoned. In looking as he did after the details of this business alone, it was enough to baffle the minds of ordinary men. He also owned the foundry and machine shop where the Butterworth and Lowe works now are, and kept a large number of employees there. With the Hon. Martin L. Sweet, he made nearly all the flour produced in the city. They owned and operated two large mills. He was the owner of perhaps one-half of the real estate between the line of Division street and Grand River, from Lyon street to Goldbrook street, including the east side canal, and a large portion of the Kent plat south of Monroe street, now covered with costly blocks and other improvements. He, also, owned Island Number 1 on Pearl street and much other improved and unimproved property in this city, at Lyons and other places in Michigan, requiring great care and attention. But the most useful, risky and difficult of all in those days of uncertainty was the banking business, in which he predominated in this part of the State. For a time he was operating three banks in this valley. One in this city, 2)This bank was called the Exchange Bank of D. Dall and Co., and was located in the second story (reached by an outside stairway) of the Daniel Ball ware-house which stood on the exact area now occupied by the Old National Bank offices. The lower floor was a storehouse for all kinds of merchandise brought by boats. Michigan Tradesman, Sept. 8, 1908. one at Ionia and one at Lyons. For protection against worthless and counterfeit money then in circulation, it was necessary to consult a bank note detector, published almost daily. Eastern capitalists were fearful of losing all money loaned upon western securities, but in the fall of 1854, business and manufacturing was increasing rapidly and there was great need of more money, there-fore I negotiated a loan of several thousands of dollars with a bank in New Hampshire for Mr. Ball to add to the capital of his bank, and about one year later, two of their directors visited Grand Rapids and were so struck with admiration of Mr. Ball and his capacity for business, that they trebled the loan. Our worthy and successful townsman Mr. Harvey I. Hollister 3)See Vol. XXXV, p. 643, this series. of the Old National Bank took his first lessons in banking from Mr. Ball and was his faithful and trusted cashier in this city so long as Mr. Ball remained in business here.
It is hard for business men of the present day to conceive of the hardships of those times and especially so after the fall of 1857. Prosperity was worth nothing except the immediate necessities of life, and those were largely exchanged for other goods. Money worth everything ; three per cent per month at the banks, and from six to eight per cent for eastern exchange. 4)During the period from 1850 to 1860 rates of exchange were enormous, reaching at one time as high as ten per cent, and never going lower than one-half per cent on any kind of paper money or coin. About the only currency in circulation in the Grand River valley at that time was that of Illinois and Wisconsin banks and what was known as "Daniel Ball currency." Items furnished by Daniel Ball (grandson). Some people called it robbery, still I doubt that the profits equaled the losses. I had a clerk and salesman in my em-ploy who loaned one hundred dollars of his own money to a real estate dealer, and charged and received eight dollars every thirty days, year in and year out for its use.
Mr. Ball was large in stature with manly features. In the management of extensive and complicated business affairs, under like conditions, I have no proof of having ever met his equal. He was a father to the industries which make permanent prosperity possible. His transportation line was as essential as our railroads are today. His various enterprises gave employment to a small army of laborers, overseers, skilled mechanics, clerks, bookkeepers, bank and boat officers and much business for the legal profession. He paid one lawyer $1,400 per year for looking after his land titles alone. With his banks he upheld the merchants, the manufacturers and the business of the valley. His genius and enterprise opened up the paths to wealth for his fellow-men. He was not haughty, but easily approached by the most humble. His habits of temperance and morality were never questioned. He had no sectional prejudice which prevented him from aiding every worthy enterprise without regard to its location. He had little time to demonstrate his kindly and neighborly feelings, but I remember no other business man who came to my bedside when I was brought low and nigh unto death in 1855.
In closing up his business affairs in 1864 5)In October, 1861, Daniel Ball and Co. were forced to go into liquidation, having suffered numerous failures of individuals and banks of issue in Illinois and Wisconsin. They paid all their obligations in full, with interest before his death. One of the principal causes contributing to Mr. Ball's failure was the demand made by eastern investors that they be paid in specie instead of notes. Furnished by Daniel Ball, grandson. his only desire seemed to be to honorably discharge all obligations against him. I think that he exhibited the highest order of business talent, never excited, but always cool and calculating, tireless in his energies and highly esteemed by all in his employ. From them I never heard a murmur. The Hon. Henry Seymour, once a trusted agent of Mr. Ball, was afterwards with me in business and always spoke in the highest terms of praise of Mr. Ball. Such men always meet with opposition from envy, if from no other cause, but without noise or parade, he seemed to possess in his nature an irresistible under-current and power of combining forces to meet and turn aside all obstacles. He was intensely earnest in all his undertakings, never idle, the lamps in his office went out late at night, and the stars that now shine upon his early made grave witnessed his return to his never finished task in the morning. He bore his burdens like the still waters which run deep, but he did not have in his nature that mirthfulness which sometimes acts as a safety valve to an overtaxed brain. Being a man of stately form and great endurance he proved that there is a limit to human exertions. I think his greatest mistake was in allowing himself to be so heavily loaded with business that he had no time for rest, not one full day in seven, and old age came upon him prematurely long before he had seen threescore years. Then with energies exhausted, he left the fruits of his wonderful efforts for others to gather and enjoy. I feel incompetent to do justice to his memory. I am not master of language to fully express my appreciation of the value of his life in this community. Unless a man dies almost in the midst of his usefulness, it matters not what he may have done that is past, he is little missed and soon forgotten. So it was with Mr. Ball. His health and fortune had suffered and for thirty years his friends have been silent and the envious have held their peace. He died in New York, but his mortal remains rest in the valley he loved and served so well. We have loved and lost other great men. We miss them from our councils, from private associations, from places of trust, from acts of benevolence; they were our guiding stars and their memories should always be held sacred, but not within my knowledge has the welfare of this city ever been so dependent upon the life of any of her citizens, as it was upon the masterly genius and serene fortitude of Daniel Ball.
Source: Collections and Researches made by the Michigan Pioneer and Historical Society, vol. XXXVIII. Wynkoop Hallenbeck Crawford Co., State Printers, Lansing, Michigan, 1912.
| | | |
| --- | --- | --- |
| 1. | ↑ | Daniel Ball, son of John Ball and Nancy Bradbury, was born July 30, 1808, and died at Jamestown, N. Y., Dec. 30, 1872, aged sixty-five years. He married Mary Covert in Rochester, N. Y., Feb. 13, 1832, and had three children: Byron D. Ball, born July 19, 1833, died Feb. 4, 1876; Mary E. Ball, born Feb. 23, 1836, died, ; Julia E. Ball, born Oct. 20, 1838, died . Byron D. Ball married Martha M. Linnell, July 26, 1854, and had five children, Julia M. (died in infancy), Daniel, Byron L., Ashley L., and Martha, all living. (Furnished by Daniel Ball, grandson. |
| 2. | ↑ | This bank was called the Exchange Bank of D. Dall and Co., and was located in the second story (reached by an outside stairway) of the Daniel Ball ware-house which stood on the exact area now occupied by the Old National Bank offices. The lower floor was a storehouse for all kinds of merchandise brought by boats. Michigan Tradesman, Sept. 8, 1908. |
| 3. | ↑ | See Vol. XXXV, p. 643, this series. |
| 4. | ↑ | During the period from 1850 to 1860 rates of exchange were enormous, reaching at one time as high as ten per cent, and never going lower than one-half per cent on any kind of paper money or coin. About the only currency in circulation in the Grand River valley at that time was that of Illinois and Wisconsin banks and what was known as "Daniel Ball currency." Items furnished by Daniel Ball (grandson). |
| 5. | ↑ | In October, 1861, Daniel Ball and Co. were forced to go into liquidation, having suffered numerous failures of individuals and banks of issue in Illinois and Wisconsin. They paid all their obligations in full, with interest before his death. One of the principal causes contributing to Mr. Ball's failure was the demand made by eastern investors that they be paid in specie instead of notes. Furnished by Daniel Ball, grandson. |